Email #1 - Focuses on training variety
Subject Lines:
Got 5 cool, new bodyweight exercises for you to try…
Love these INSANE bodyweight exercises
Hit a rut? Try these new bodyweight moves…

Body:
I've got something very cool for you here today…FIVE unique new bodyweight exercises that will solve one of the MAJOR problems you might have with bodyweight training…lack of training variety.
Because we both know that when your body gets too used to your training, your results will GRIND to a halt.
Check out these 5 new bodyweight exercises here…[affiliate link here]
http://xxxxx.betteru.hop.clickbank.net/?l=606
These exercises cover back, chest, legs, shoulders and core…pretty much a total-body workout here. If you've hit a rut in your training, these exercises are EXACTLY what you need to get things back in gear.
[repeat your subject line here as the call-to-action and use your affiliate link on it - this will increase clickthroughs]
http://xxxxx.betteru.hop.clickbank.net/?l=606
Sign Off
P.S. Don't miss these…I've tried a few of them myself and they're awesome!
http://xxxxx.betteru.hop.clickbank.net/?l=606

-----------------------------------
Email #2 - Focuses on uniqueness of the exercises
Subject Lines:
5 weird bodyweight exercises that will get you having FUN in your training again
Try these 5 weird bodyweight exercises
Don't miss these 5 unique bodyweight exercises

Body:
Do you consider yourself a part of the "herd"…the people who grind away at their training (because that's what they've been told to do) even when they aren't getting results and aren't having fun?
Of course not!
You train hard and you're not afraid to try out new exercises and training techniques, as long as they can get you RESULTS.
And yeah, having FUN with your training is a BIG part of it, too.
So on that note, I've got 5 weird new bodyweight exercises to share with you today, from "The Mad Scientist of Muscle" Nick Nilsson.
Nick is well known for his creativity (and insanity, to be quite frank!) when it comes to training and these exercises certainly fit the bill. They're very effective (and fun!) and solve some of the biggest problems you might run into when it comes to bodyweight training.
Check out these 5 "Mad Scientist" bodyweight exercises here…
http://xxxxx.betteru.hop.clickbank.net/?l=606
Sign Off
P.S. Each of these exercises is demonstrated on video and has a full set of pictures and detailed descriptions, along with form points. So definitely watch the videos (each is just a minute or two long) then read through the instructions so you know exactly what you're doing when you try them.
Get your 5 new bodyweight exercises here…
http://xxxxx.betteru.hop.clickbank.net/?l=606

--------------
Email #3 - Focuses on the sample exercises and the problems they solve
Subject:
Your bodyweight training has issues…
5 problems with bodyweight training
Solve these 5 BIG problems with bodyweight training…

Body:
Bodyweight training is incredibly effective…you can use it to build muscle and strength and burn fat, all in the privacy of your own home (or on the road!)
There ARE, however, some major problems that can come up when training with bodyweight movements…problems that can bring your results to a screeching halt, if you don't know how to fix them.
I've got 5 exercises for you here that solve 5 of the biggest problems people run into with bodyweight training, including an exercise that will literally DOUBLE the resistance you can put on your chest with push-ups, and an abdominal exercise that targets the DEEP core muscles that will flatten your stomach and tighten your waist (which crunches and sit-ups CAN'T do).
Check out these 5 exercises and the problems they solve here…
http://xxxxx.betteru.hop.clickbank.net/?l=606
Sign off
P.S. These problems especially troublesome as you get more advanced in your bodyweight training. We all know that the fastest results generally happen when you first start training, but with the right exercises, you can match those gains again!
Learn those 5 exercises here…
http://xxxxx.betteru.hop.clickbank.net/?l=606
----------------------
Email #4 - Focuses on a Problem With One of the Most Common Bodyweight Exercises That Can Be Solved by an Exercise in the book.
You're welcome to save and use the included pictures in your email!
Subject:
One BIG problem with the push-up (and how to fix it)...
One weird problem with the push-up...
How to fix this weird problem with the push-up...

Body:
If you've built up some decent strength in the Push-Up, to make
the exericse tougher, you've likely graduated to the Feet-Elevated
Push-up (the one done with your feet set up on a bench, hands
on the floor and body angled down in order to focus on upper
chest (and make the exercise a bit more challenging).
And I know it's strange to say it, but the problem here
is the floor (bet you didn't even know the floor could be a
problem with the push-up!)
When you do a normal feet-elevated push-up, as you come to
the bottom, you have to flatten out your chest and torso, making
them horizontal, in order to keep your face from hitting the floor.
You're basically turning it right back into a regular push-up only
with your knees and body bent.
And that's NOT what we're looking for with that exercise.
So to solve that problem, I've got a quick tip here for you from
Nick Nilsson (a.k.a. "The Mad Scientist of Muscle").
---
You're going to be setting your hands on a bench
(FRONT EDGE) and hook your feet over a bar (or other solid
object) to get your body at that downwards angle. Because your
hands are on the front edge, you're also going to get some additional
tension by keeping yourself in place and from gripping the
padding of the bench.
Set the bench a few feet in front of the bar (I'm using a bar set
in the power rack and pulled up against the uprights...you can
use whatever is high enough up that you can get your feet on).
Adjust the height of the bar to your liking.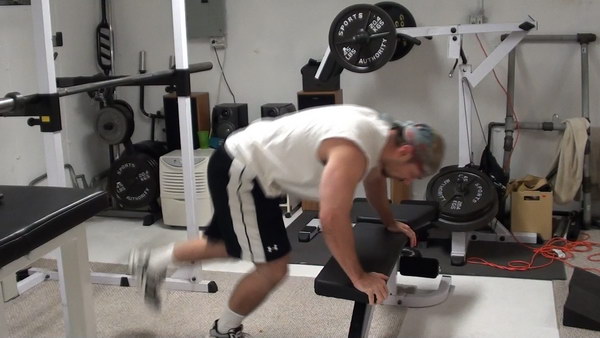 Get your feet hooked over the bar and get your body straight. Now
you're in the top position of the elevated-feet push-up.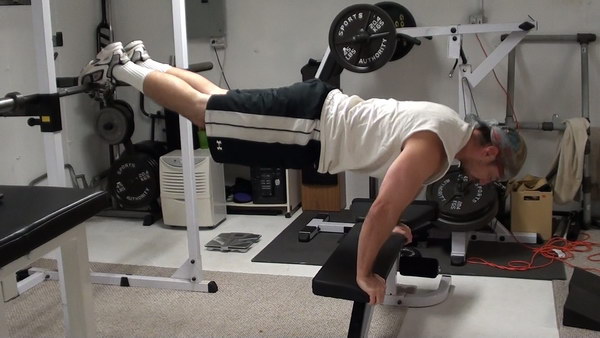 Lower yourself down.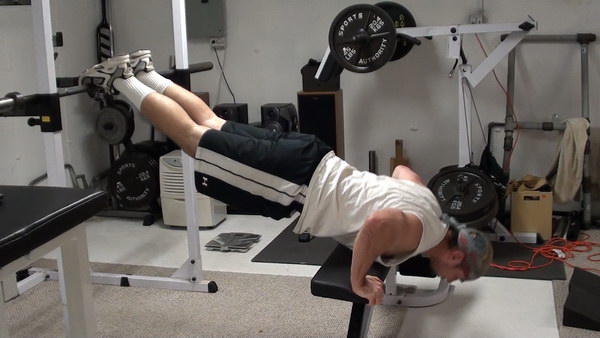 As you can see, in the bottom position my head is BELOW the level
of the bench. THIS is what allows me to keep that ideal declined body
position and maintain tension on the upper pecs during the movement,
which is what you CAN'T do if your hands are on the floor.
Now, can you use push-up handles or set your hands on dumbbell
handles to mimic this? Absolutely. It'll help.
But I STILL find that even with the hands raised a few inches on
handles, it doesn't give you nearly as much range of motion as
setting your hands on the bench in this fashion and not having to
worry AT ALL about pressing your face into the carpet...especially
if you elevate your legs even more than I have in the demo here
(the more vertical your body goes, the more useful this technique
becomes).
Give it a try next time you're training chest and see what you think!
---
IMPORTANT...The Best Bodyweight Exercises
You've Never Heard Of

If you're interested in more bodyweight exercises and training tips
like this, Nick has just released a GREAT book on the subject.
It's got 85 bodyweight exercises just like the one posted above.
And just fyi, they're not all "total" bodyweight exercises...he also
teaches you how to incorporate strategic resistance into bodyweight
movements to make them even more effective.
If you enjoy bodyweight training, I think you should get it. It's not
expensive and it's jammed full of really cool exercises and
bodyweight training knowledge. I think you'll get a lot out of it and
the price is dirt cheap!

Check out the 5 free sample exercises here
http://xxxxx.betteru.hop.clickbank.net/?l=606