"The Best Exercises You've Never Heard Of" is a book about unique and innovative exercises. It contains information on 53 new and re-visited exercises including pictures, videos, tricks for performing them, and common errors to avoid.

You can read more about this book by clicking here.

Instructions for how to make your affiliate link can be found in the blue box. Below that, you will find information on the free brandable sample eBook you can give away from your site as a bonus, text ads, banner ads, book covers, testimonials and more.
---
Free Brandable Sample eBook
Everyone loves free stuff. To help you market your affiliate link, I've put together a brandable e-book (in 2 different formats) that contains 5 of the exercises from "The Best Exercises" book.
The content in both is exactly the same - one is a brandable PDF, the other is a program file and the book opens up more like a mini-website. The program file version contains videos while the PDF version does not.
What is branding?
Branding simply means that you can place your affiliate link inside the book so that everyone who downloads this sample book from you will have your affiliate link inside of it!
Nowhere in this free e-book is there a direct link to the sales page of the website. Every single person who downloads the book MUST go through your affiliate link to purchase it. This protects your affiliate commission. Plus, once they've visited the site, a cookie is placed on their computer to ensure you always get credit for the sale, even if they decide to purchase later.
You can download the zip file containing the brandable e-book, the branding program and the complete, easy-to-follow instructions for performing the branding immediately. It's very easy to do and thoroughly explained in the "readme" file included in the zip package.
"Program" Version - PC Only
(ebook program - contains videos)
Click Here to download the
branding zip file now
PDF Version
(compatible with Macs but doesn't
have videos included)
Click Here to download the
PDF branding zip file now

You can use this cover to promote the book (included in the Zip files above):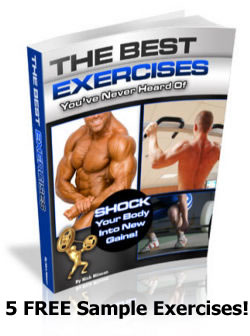 Suggested Marketing Techniques:
Offer the book as a reward for subscribing to your newsletter.
The book can be a free download from your website - for best results, place the download link in a prominent spot on your homepage.
Use it as a valuable bonus for when people buy another product you sell (suggested $9.95 value).
Use your imagination!

Sample Ad Copy For "The Best
Exercises" Brandable eBook
---
Get Five of Nick Nilsson's "Best Exercises You've Never Heard Of" Absolutely FREE!
To truly maximize every ounce of effort you put in at the gym, you need exercises that get the job done...exercises that hit your muscles in ways they've NEVER been hit before.
Right now, you can get a free eBook featuring 5 extrarordinary exercises...
Full-Range Pulldowns - learn the TRUE meaning of full-range with this exercise. You'll combine a pulldown and a rowing movement into one exercise for powerful lat stimulation.
Nilsson Curls - this one is a KILLER on the biceps, the likes of which you've never seen before. It's a bodyweight exercise that puts all your bodyweight on the biceps!
Bench-End Presses - if you have trouble feeling your pecs when benching, you NEED this exercise. It forces your chest into proper position for maximum pec activation.
Standing Rope Pullbacks - hitting the rear delts perfectly is now automatic. This exercise dials it in without you even having to think about it.
Bodyweight Tricep Extensions - hit your triceps HARD with this unique bodyweight exercise. All you need is something to set your hands on and you've got yourself one of THE most effective tricep exercises you can do.
Click here to grab your copy of the "Five Best Exercises" FREE!
---
The best ways to promote your affiliate link are to use it in the context of an article or in a text link.
Below you'll find short sample newsletter ads you can use in your advertising as well as a solo ad (for sending by itself). You can also use these samples as starting points for your own ads. Just be sure not to make any claims or representations that aren't true.
Personal recommendations from site owners or newsletter editors make particularly strong ads and tend to out-pull more general types of ads, e.g. "I have read 'The Best Exercises' and have found it to be incredibly useful..." Sending this type of note to your list can result in a tremendous number of click-throughs.
There are also graphics and banners below which you can use for links. Be aware though, that graphic links with no other text are not as effective in generating referrals as a text link or article.
Learn Amazing New Exercises and How You Can Use Them To Squeeze More Results Out of Every Single Rep You Do!

What happens when you work your body with the same exercises or routines day in and day out? Have you tried varying your exercises but just aren't getting anywhere?
You can change all that in a heartbeat with "The Best Exercises You've Never Heard Of." This groundbreaking eBook contains 53 of the most effective, innovative exercises in existence. They work and they work FAST!
Inside you'll learn:
-How you could be BENCHING 30 to 50 POUNDS MORE in a matter of weeks. Discover the secret exercise that shatters bench press plateaus.

-The way to create stunning washboard abs in record time with an exercise that can double and even TRIPLE the tension on your midsection.
-How you can exercise ANYWHERE and still get great results. Learn simple exercises you can do at home with a minimum of equipment that put expensive health club machines to shame.
-A revolutionary new exercise that will literally FORCE stubborn calves to grow. This exercise works the calves through their ENTIRE anatomical range of motion in one movement for maximum results.
-How to rehab or prevent Rotator Cuff injuries with an exercise that combines 3 different strengthening movements into one timesaving exercise. It can even help boost your bench press!
-How you can dramatically improve your performance in every sport you do. Add distance to your golf drives, speed to your throws, and power to your hockey slapshot or tennis serve. Unique core-training exercises will help you develop rock-solid abdominals and astonishing midsection power.
-Much more!!

There is nothing as frustrating as spending endless hours in the gym and coming away with little to no results for all your hard work. "The Best Exercises You've Never Heard Of" can help you get far more results without any more effort than you're putting in right now.
The information in this eBook is clear, detailed and extremely useful. The book is packed with more than 200 full-color pictures and videos. There are tricks and tips for making the exercises even more effective, as well as examples of common errors to make sure you're doing every single exercise correctly and efficiently.
I highly recommend this book as a valuable tool for your training success.
[your name here]
Click the following link to learn about how you can use these powerful exercises to take your body to the next level.
http://[your affiliate link here]
---
Banner #1 (460 x 68)
Banner #2 (460 x 68)
Banner #3 (460 x 68)
---
These covers are free for you to use on your site for marketing the book. They are extremely effective placed near your ad copy as they show people what looks like a real product. This can really help with increasing traffic through your affiliate link.
To get these graphics, simply right-click on top of them and choose "Save Picture As..." from the menu that pops up. Save them to your hard drive for use on your site.